Introduction:
Metal furring has developed into a favorite option for architects and contractors when it comes to building sturdy and aesthetically pleasing ceilings. Systems with metal furring provide many benefits, such as increased structural integrity, simplicity of installation, and design adaptability. This blog post will discuss its advantages, enabling you to make wise choices for your upcoming building project.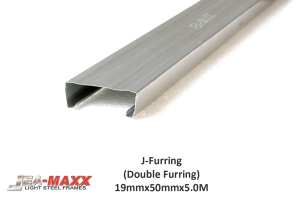 What is Furring Channels used for?
Installing metal channels or hat channels horizontally across the ceiling structure serves as a solid framework for metal furring for ceilings. Various ceiling materials, such as gypsum boards, metal panels, or acoustic tiles, can be attached to these furring channels as a foundation. In addition to enhancing the ceiling's strength and stability, it makes it possible to incorporate soundproofing, insulation, and other useful components.

Advantages of Metal Furring Channels:
Enhanced Strength and Stability: Gives it good structural support, enabling it to resist the weight of the materials used for the ceiling. The channels' ability to evenly transfer the load lowers the possibility of long-term sagging or distortion. As a result, the ceiling is stronger and lasts longer.
Simple Installation: Can be put in place quickly because of their simplicity. The lightweight furring channels are simple to cut to the required lengths. Additionally, they frequently have pre-punched slots or holes, which makes the attaching process simpler. This simplicity of installation results in lower costs and less manpower needed.
Flexibility in Design: There are countless design options available for ceilings when using the system. The channels can be spaced to support a variety of patterns, including curved or grid-like arrangements. Additionally, they enable the integration of utilities like HVAC vents, recessed lighting, and others into the ceiling structure. This adaptability enables architects and designers to produce useful and aesthetically pleasing ceiling designs.
Improvements in Acoustic Performance: This can help a room's sound insulation. It aids in reducing noise transmission between rooms or from outside sources by inserting insulation materials or acoustic panels inside the ceiling framework. This capability is especially helpful in settings like workplaces, classrooms, and hospitality events where noise control is crucial.
How to Choose the Correct Metal Furring System:
When it comes to ensuring optimal performance and durability for your ceiling, look no further than JEA Maxx Light Steel Frames from JEA Steel Industries, Inc. as your choice for a metal furring system. You can rely on JEA Maxx Light Steel Frames to meet your project's requirements by considering factors such as high-quality materials, impressive load-bearing capacity, compatibility with ceiling coatings, and adherence to industry standards. Seek advice from industry experts who can assist you in selecting the best solution tailored to your specific needs. Select JEA Maxx Light Steel Frames from JEA Steel Industries, Inc. to ensure superior performance and longevity for your ceilings.

Conclusion:
For ceilings, metal furring offers a number of benefits, including increased strength and stability, design freedom, and improved acoustic performance. You may build a sturdy, aesthetically pleasing, and useful room by using a metal furring system in your ceiling construction. Metal furring will unquestionably improve the quality and appearance of your ceilings with careful consideration of your project's needs and the skills of dependable providers. Utilize the advantages of metal furring to make your ceilings beautiful architectural highlights.
When it comes to Metal Furring / Double Furring don't forget to contact JEA Steel Industries, Inc. a well-known manufacturer of standard galvanized steel in the Philippines.
For concerns and inquiries, please contact JEA Steel Industries, Inc. at 09976037999 / 09434543150 or send your requirements to jeasteel@metalframings.com